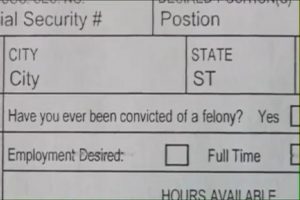 On July 22, 2014 The National Law Review reported that Illinois passed Ban-the-Box legislation that prohibits employers from inquiring on its application, or during early stages of an application review, as to a prospective employee's criminal background.
House Bill 5701 entitled the "Job Opportunities for Qualified Applicants Act" was signed by Governor Pat Quinn on July 19, 2014. The Act becomes effective on January 1, 2015.
According to this new law employers, or any agent of an employer, is prohibited from "considering or inquiring a job applicant's criminal record or history until the individual has been determined qualified for the position and notified of an impending interview, or, if the applicant will not be interviewed until after a conditional offer of employment is made."
It should be noted an "Employer" is described as "any person or private entity that has at least 15 employees in the current or preceding calendar year."
What this means for you, Mr or Ms Employer-
if you are not in Illinois or another Ban the Box state, it means nothing (yet). However, Missouri is considering ban the box legislation, so stay tuned. In a nutshell, it basically says you cannot run a background check on a potential employee until you've deemed that person as "hire ready" and are moving into the final stages of hiring. In other words, you cannot use the background check to weed out potential candidates.